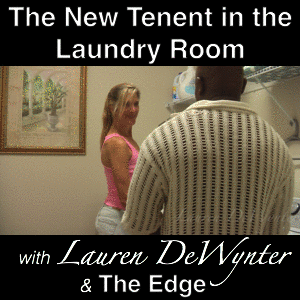 The New Tenant I – in the laundry
In this video, I play a new tenant in my apartment building. It is my first time in the laundry room, and a new friend (played by The Edge) sees me in there and decides to check me out. And as he fucks me every which way in the laundry, I cannot help but wonder if he heard any rumors about me; he knew right away that I am up for anything!
This is the first part of a series that Edge and I made. As an aside, I really like the Edge, he is nicely hung and knows how to use what he has. He is also a real gentleman out of the bedroom, but when it comes to fucking he knows to treat a slut like me. And I hope you enjoy our video!