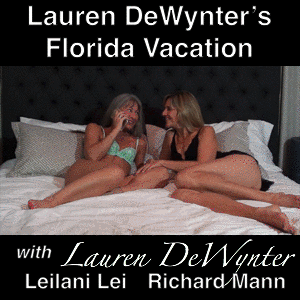 Florida Vacation
I was in Florida visiting my friend Leilani Lei. She is always fun and full of life! And its a nice benefit that we both love sex. It's yet another good thing about this lifestyle; you meet lots of sexy people that are as insatiable as me!
We were hanging out in Leilani's bed, trying to figure out what to do, when Leilani suggested we call a neighbor and invite him over too. That neighbor turned out to be Richard Mann! He showed up in a snap right after she called… I guess he knew not to leave two horny insatiable sluts waiting.
This is another great video. We all had a great time making this, and it shows in the video. If you love watching 2 insatiable sluts (me and Leilani Lei) getting ridden hard and put away wet by a hung black stud (Richard Mann) then you will love this video too!