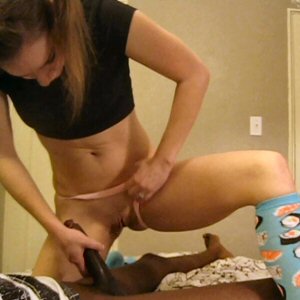 Sushi Socks
A fan sent Amber these socks. They have little pieces of sushi all over them. She promised to wear them in a video so here we go.
Mr. 11 inch starts off getting a deep blow job from my wife. She loves when he would force her head down harder on his cock. She gagged often on it.
The choking had a direct impact on her pussy. It must of been really ready. Amber just hopped on top of him and pulled her panties to one side and plopped down on his cock.
We took turns fucking her….and even some cuck play and double penetration. I finally blew all over her ass before he came inside of her.