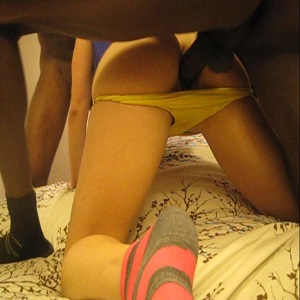 My Hot Foursome
A dream come true! I always wanted to be in between two BBC and we finally had the opportunity to make it happen.
Husband helps me suck cock a little bit, but I don't let him have too much fun because I am greedy for the cock for myself. Yellow panties and a little blue cropped shirt. The BBC take turns while I ride them and deepthroat their cocks.
My husband watches as I am finally satisfied. I get a nice hot load on my stomach and my husband gets a turn when the BBC are spent. He cums on me foot and shoots on my pussy too.