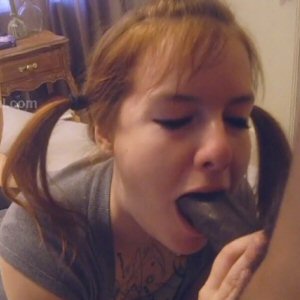 Masked Craigslist BBC
I set my wife up with a new guy from our craigslist ad. I told him I wanted to film him giving her his load, and he was really cool with it….at first.

Once he got to the house he started to get cold feet. So I talked him into wearing a mask. He was still hesitant until he saw Amber walk into the room ready to fuck.
She had on a pair of black panties and a little gray t-shirt and pigtails.
He put on the mask and raced to the bed with my wife.
There she almost completely drained his balls with one of her blow jobs. But I really wanted to see how much seed he could dump inside her pussy, so I suggested they get naked and fuck. And boy did they.